October 18, 2015
I have been creating basic 3D models in Blender for a while, drawing room drafts and adjusting the placement of objects in different scenes. It is time to show you the progress I have made and to give some time to SUBSEQUENTED blog. In this post I would like to share with you on what I am working now.
BLENDER MODELLING AND SCALE
At first I viewed every room from the top in Blender and then printed it. Then I made several different drafts of the game objects placement (both interactive and non-interactive) and characters in the scene.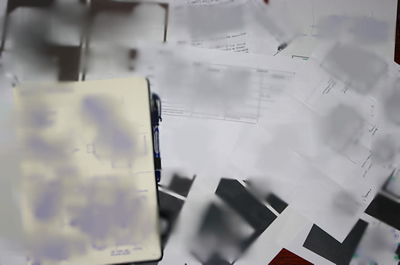 When I imported basic shapes of rooms into Unity, I found them smaller than I designed (drew) on paper. I had to enlarge everything for few meters. Then I had to find out for example the door height, size of handrails, stair height of the staircase. Do you know, what is the standard height of the stair?:-) Models of human figures, which I placed around the room, helped me to the right scale.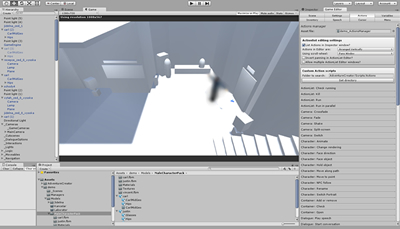 SUBSEQUENTED COMIC
I also created a kind of comic (windows with pictures) describing Lensen´s movement throughout prototype. This simplified scenario helped me to imagine which scene (place / room parts) are needed and what importance they have. I also have a better idea of what angle I want to capture in every game screen with the camera and which objects I want to view in the scene.
WHITE-BOX ENVIRONMENT PREPARATION
I imported all game locations / rooms to Unity (resp. basic shapes / walls), I have deployed interactive objects, characters and rough structure of non-interactive items. Everything is of course non-textured and not final.
Now I'm experimenting with placement of objects and with camera looking at scenes (field of view). It is interesting (read: not easy), how to place the camera (selection of the view angle to the scene) into the lift 3.5 * 3m, which must effectively capture two whole person (not just a part of the body, eg. a hand or a head), the mirror, the elevator control panel, the speaker on the wall and the elevator doors. And it has to look nice, be transparent and follow basic rules of capturing and displaying objects in the visual field!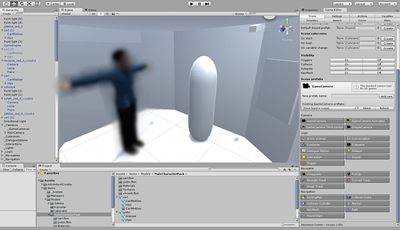 When I will be satisfied with all the locations and basic layout of the objects and characters, I will start with the production of more detailed 3D models and basic texturing. Hand in hand with texturing I will also choose a color scheme, that is basic color palette used in the prototype - this is an interesting topic as well (eg. this Herman Tulleken´s article: Color in games: An in-depth look at one of game design's most useful tools).
All the best, I'm going to model some objects!
Jakub